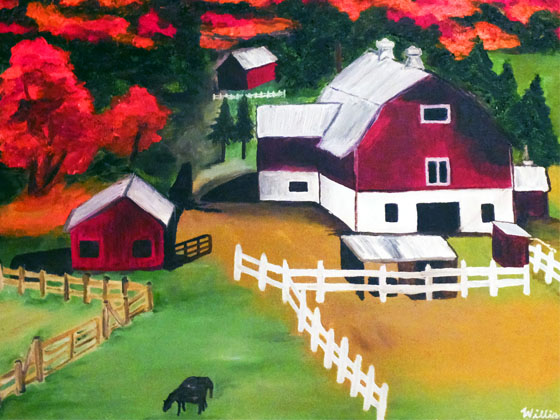 About Shamrock Painting Company
Shamrock Painting Company (SPC), a two-generation family-owned business located in Northfield, Vermont, was established in 1975 by Tim Donahue.  His son, Dennis Donahue, joined the business in 2005 after working as a painter in Montana. The staff is rounded out by Gary Martin and Matt Vilbrin, who collectively bring over 45 years of experience to Shamrock Painting Company.
Satisfaction Guaranteed
As a company our goal is to offer customers high quality products, excellent service, and skilled workmanship at a fair price. We believe that proper surface preparation prior to the application of high quality paints and stains, combined with expert craftsmanship, lead to exceptional finished products. While many companies may offer cheaper products and services, we firmly believe that best industry practices yield longer lasting, more attractive results and a higher level of customer satisfaction. SPC is fully insured and offers a one-year warranty on all of our work.
Painting & Finishing Services for Residential, Commercial & Contractors
Shamrock Painting Company is a full service company that provides interior and exterior painting and finishing of wood, concrete, vinyl, stone and metal surfaces. We work with home owners, commercial businesses, farms, and contractors in Central Vermont.
Custom Wood Finishing
In our shop, once a creamery used to ship milk products to Boston, we offer custom wood-finishing services for individuals and contractors. This spacious building enables us to handle multiple pre-finishing and finishing projects at the same time—to include siding, trim, cabinetry, wood panels, doors, furniture and wooden pieces of all kinds. We deliver locally and ship nationwide.
Barns, Fences & Pasture Management
Owners of Shamrock Farms, SPC also offers barn and cupola painting and maintenance, fence building and repairs, pasture and meadow management, and baled hay.
Use of Low Volatile Organic Compound Paints & Stains
For your safety and ours we prefer to use low odor, low volatile organic compound paints and stains whenever possible.