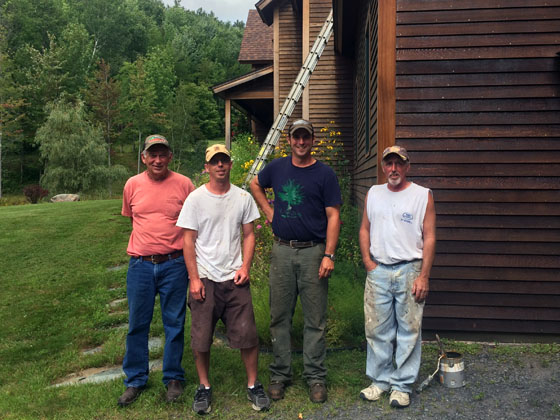 The Crew
Shamrock Paining Company owners Tim Donahue and Dennis Donahue are joined by long time employees Gary Martin and Matt Vilbrin, who collectively bring more than 95 years of painting expertise to the company.
Shamrock Painting Company stands behind the belief that fine craftsmanship combined with the best quality products, delivered at a fair price, leads to superior, longer lasting results and customer satisfaction.
Meet the Crew!
Gary Martin  
Gary began working for SPC in 1985 and is our longest tenured employee.  A Vermont native, he resides in South Barre where he enjoys vegetable gardening. When you see Gary, be sure to ask him how his pole beans are doing or if he has been fishing lately! Gary is certified by the State of Vermont in Essential Maintenance Practices (EMP).
Matt Vilbrin  
Matt started working at SPC in 2001 and is a native Vermonter. Matt is also certified by the State of Vermont in Essential Maintenance Practices and is certified by the Environmental Protection Services Agency (EPA) in the Renovate Right Program—both lead-safe renovation certification programs. Matt is also an avid outdoorsman who likes to hunt and fish.
The Donahue Family 
The Donahue family is made up of Tim and Jill who started Shamrock Painting Company, Shamrock Farms and the Northfield Pharmacy. They have two sons, Dennis and David. David, an engineer working for the Forest Service, is married to Betsy Ricker and has two girls, Addison and Josephine. Dennis is married to Bonnie Kirn and they have a daughter, Lucinda.
Besides running the family businesses, the Donahues enjoy raising cattle, horses and chickens. In their free time they attempt to grow vegetables and get to camp to do some fishing.